Infrastructure Funding Reporting and Engagement Service
Stateside has partnered with BGR Group to provide a new service: Infrastructure Funding Reporting and Engagement.

Congress passed the Infrastructure Investment and Jobs Act (IIJA) in November 2021. The act authorizes $973 billion in infrastructure spending—from seven federal agencies to all 50 states, five major territories, the District of Columbia, and federally recognized tribes—over the next five years.
A complex web of new programs and agencies to administer this historic investment is already taking shape. While guidance on implementation is still emerging, it's clear that organizations looking to leverage or even track federal funding will be faced with a challenging and potentially massive undertaking.
Stateside's Infrastructure Team brings together multidisciplinary policy expertise, in-depth knowledge of the policymaking process, and a network of trusted in-state contacts to help your organization navigate the grantmaking process — from the federal government to the states and through state agencies to programs.
In addition to Stateside's Infrastructure Team, we are partnering with BGR Group on this new service. BGR's bipartisan Commerce and Infrastructure Practice in Washington, D.C., will bring their extensive policy background and strong relationships on Capitol Hill and in the Biden Administration to help engage on the federal level as guidelines are written for the new state and local grant programs. 
Our service includes a 50-state profile report with options for customization all the way up to direct engagement.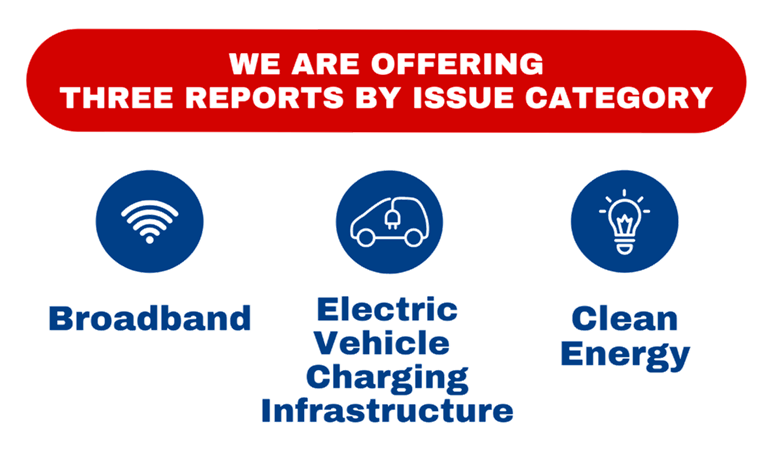 The standard reporting option is issued monthly, with weekly email updates, to include detailed information on:
Grant allocation and formula funding to each state

Status of state applications or plans and the process for receiving funds

Distribution of funds among state agency programs

Structure of new and existing state agency programs including the process for application and distribution of funds

Eligibility criteria to apply for funds

Agency contacts and state infrastructure plans

Meetings occurring in-state concerning the process to apply for funds

Workshops and briefings hosted by national groups of state and local officials

In addition to our standard reporting option, we can help you get information about the funds that are even more specific to your needs. We are offering the option to add on customized analysis on a per-state basis or engagement consulting services:
Providing detailed information and analysis of state grant applications and RFPs

Developing a strategic plan for your team, including identification of key agency and department staff contacts

Tracking state and local responses to federal RFIs and comments

Referrals to in-state procurement lobbyists and other consultants

Identifying and monitoring city and county applications and awards

Engagement with targeted national, state and local officials' organizations

Additional custom research and deep-dive analysis
Image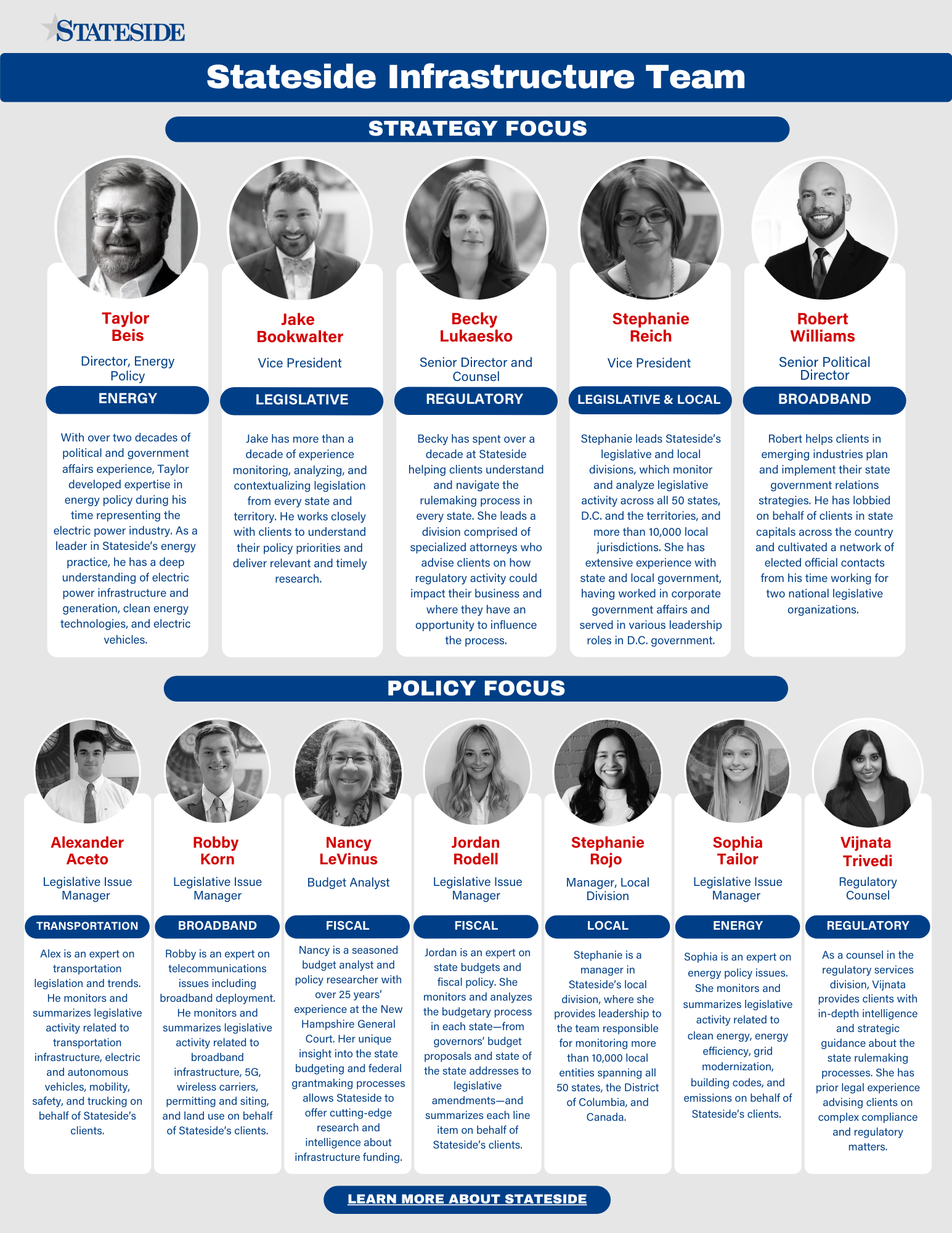 Image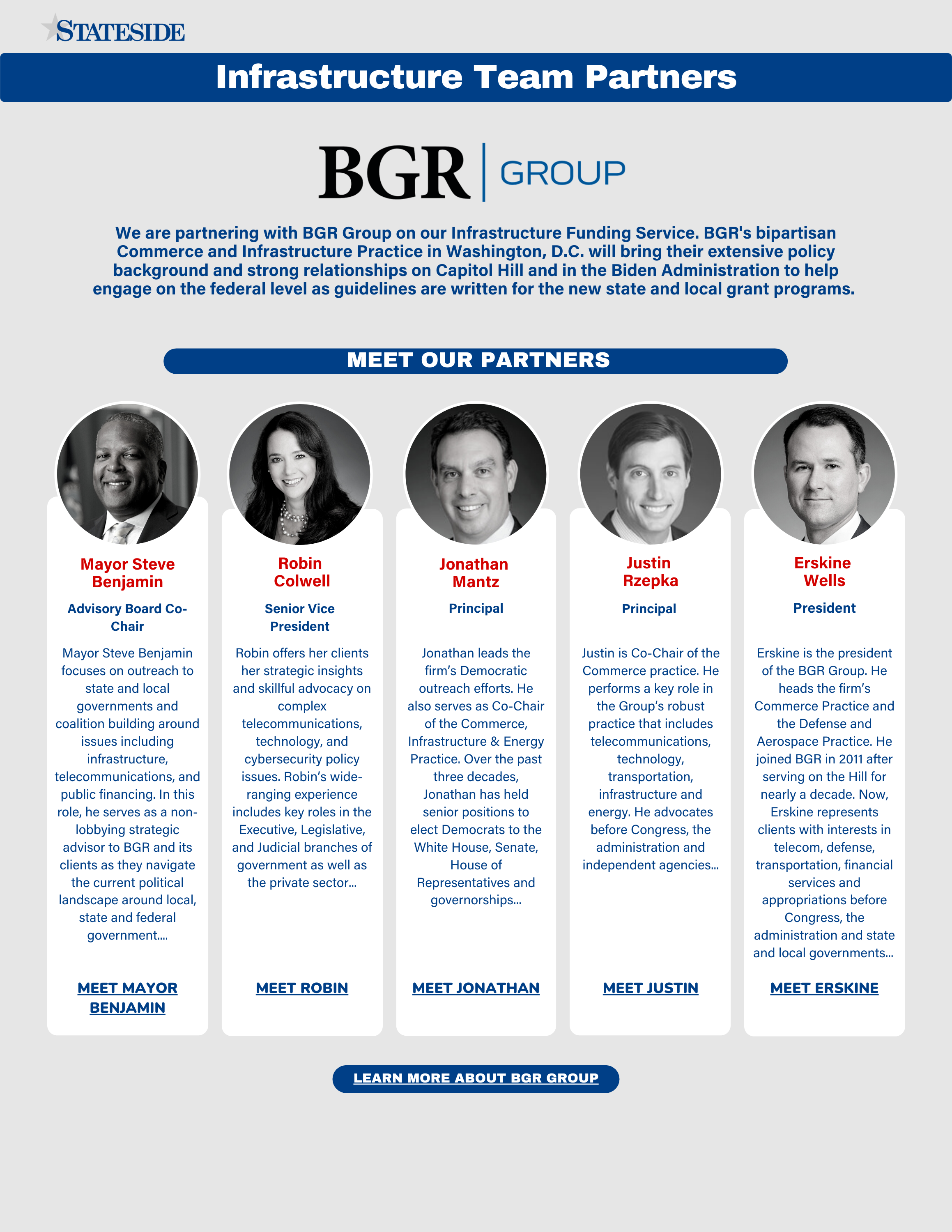 BGR

 Commerce & Infrastructure Practice
BGR's Commerce & Infrastructure Practice is a bipartisan leader in Washington, D.C., and state capitals across the country advocating for clients on a wide range of issues including high-speed broadband, consumer data and privacy, infrastructure, oil and gas, and next generation technologies such as semiconductor supply chains, artificial intelligence, and quantum computing. 
Clients turn to BGR to connect federal and state lawmakers to companies that drive innovation. We translate their successes in a way that policymakers understand. The BGR team closely monitors and impacts debates in Congress and state capitals around issues including privacy, next generation wireless and broadband networks, and spectrum policy. Success to us is clear: getting the results our clients need. 
BGR's extensive background in infrastructure policy and strong relationships on Capitol Hill and in state governments have made us a leading voice for stakeholders in these vital sectors. Our clients in the aviation, automotive, rail, shipping and mass transit industries rely on BGR to educate political leaders about how vital these industries are to domestic and international commerce. 
BGR also works with energy clients to navigate regulations and legislation that promote an "all of the above" energy strategy. While traditional energy products strive to become cleaner, existing sources like nuclear, renewables and other energy efficient strategies hold incredible promise to fulfill the demands of industry and communities nationwide. 
Across the spectrum of commerce and infrastructure-related issues, BGR has a successful track record of positioning our clients to achieve success.