Wondering how your organization can financially benefit from the Infrastructure Investment and Jobs Act (IIJA)? We've created a dedicated team of experts in state and local procurement to help your organization identify state and local funding opportunities, track grant allocation processes and timelines, and provide strategic planning to engage with key contacts. 
We're currently offering services in three infrastructure funding areas - Broadband, Clean Energy, and Electric Vehicle(EV) Charging Infrastructure.
Contact us today to get started.
---
The Infrastructure Investment and Jobs Act (IIJA), or Bipartisan Infrastructure Law (BIL), passed by Congress in November 2021 authorizes $973 billion in support of infrastructure spending for the next five years - FY 2022 through FY 2026. $550 billion will be allocated for new federal investments in broadband, electric vehicle (EV) infrastructure, transportation - rail and transit, clean energy, water, and more.
While guidance on implementation continues to emerge and evolve, it's clear that organizations looking to leverage or even track federal infrastructure funding opportunities must start planning, engaging and preparing for receiving potential monies.
Image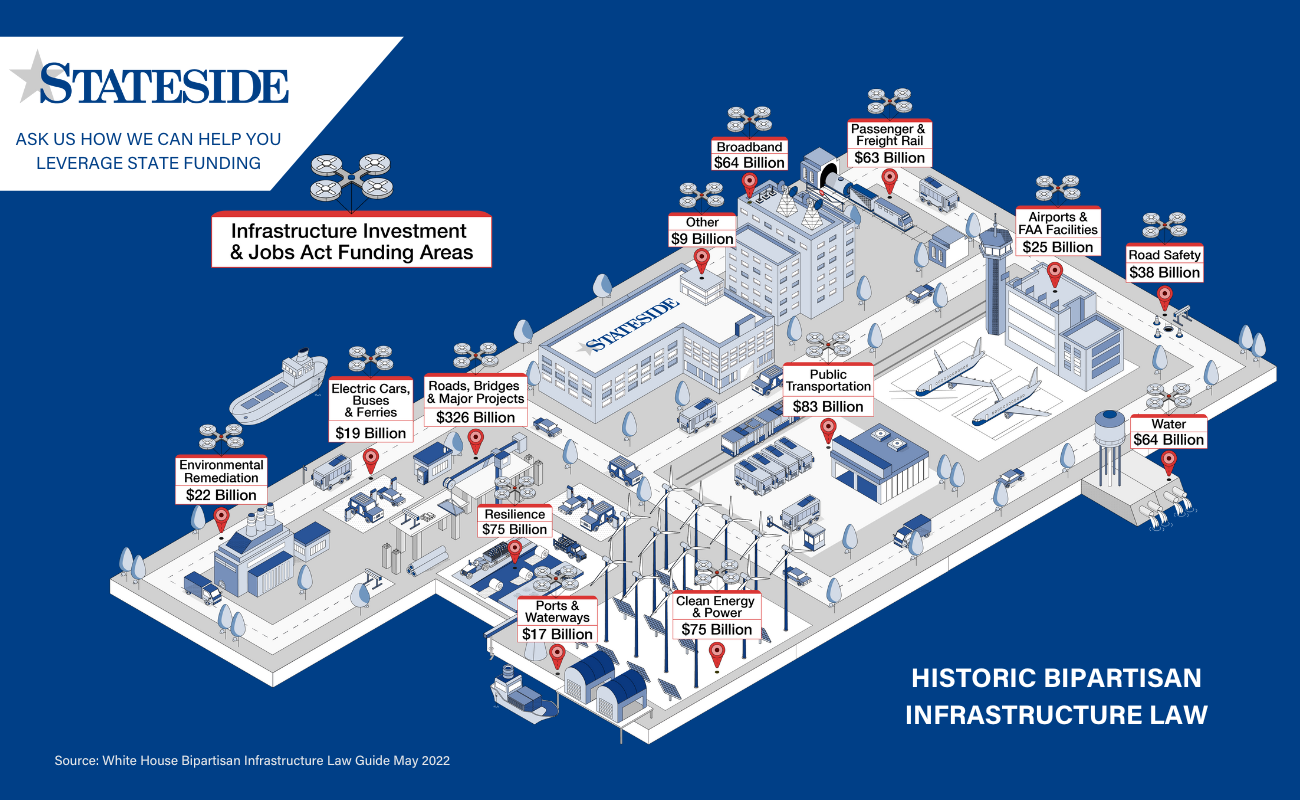 WHEELS ARE IN MOTION TO GET A PIECE OF THE FUNDING
According to the White House, funds have been allocated to more than 350 distinct programs across over a dozen federal departments and agencies to all 50 states, five major territories, the District of Columbia, and federally recognized tribes.
The details of these new programs are already taking shape, including administering processes, application requirements and timelines. The White House also announced in November 2022 that it had already released $185 billion in funding.
Now is the time for organizations to begin identifying how and where they may be able to be a part of the available funding. After all, most funding will go directly to the states, so companies and localities will need to rely on their relationship with state governments to get a part of the money. 
LET STATESIDE SUPPORT THE NAVIGATION OF THE COMPLICATED PROCESS OF THESE STATE AND FEDERAL PROGRAMS BY HELPING YOU TRACK AND LEVERAGE INFRASTRUCTURE FUNDING OPPORTUNITIES.
We've created a dedicated team of experts in state and local procurement to help navigate the grantmaking and funding disbursement process in three issue areas.
CONSULTING & STRATEGIC PLANNING - CUSTOM REPORTING - STANDARD REPORTING
Our consulting and strategic planning services are tailored to your company's needs, from a detailed analysis of state grant applications and RFPs to in-state procurement lobbyist referrals to engagement with targeted national, state, and local officials' organizations.
And if you're looking for something to help get started in knowing where to find information, our standard infrastructure funding reports provide you with a 50-state profile and weekly email updates.
LET STATESIDE HELP YOU LEVERAGE & TRACK FUNDING
Team of Experts Supporting You
Stateside's Infrastructure Team brings together multidisciplinary policy expertise, in-depth knowledge of the policymaking process, and a network of trusted in-state contacts to help your organization navigate the grantmaking process — from the federal government to the states and through state agencies to programs. 
Image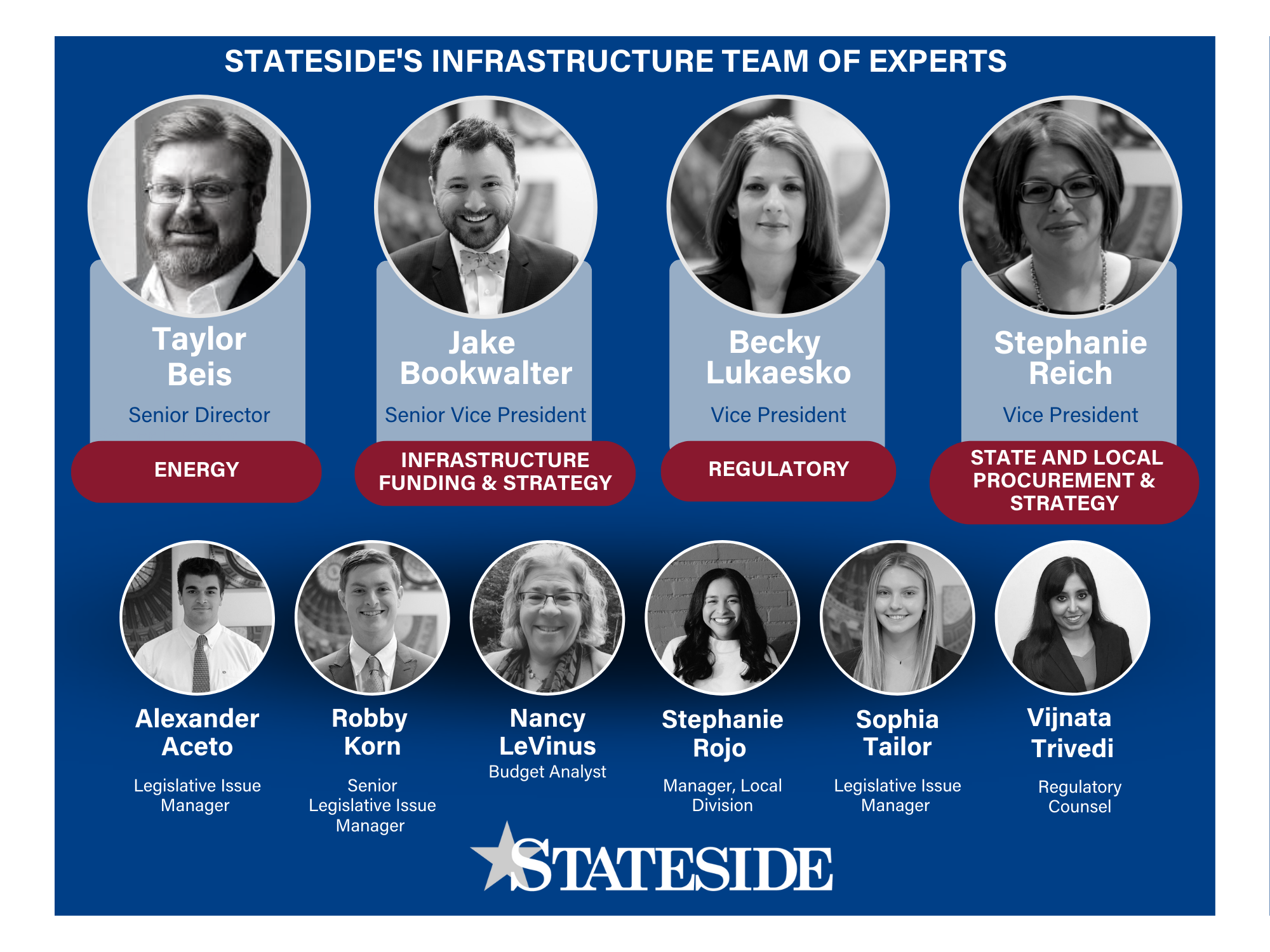 Our standard infrastructure reporting option is issued monthly, with weekly email updates, to include detailed information on:
Grant allocation and formula funding to each state

Status of state applications or plans and the process for receiving funds

Distribution of funds among state agency programs

Structure of new and existing state agency programs including the process for application and distribution of funds

Eligibility criteria to apply for funds

Agency contacts and state infrastructure plans

Meetings occurring in-state concerning the process to apply for funds

Workshops and briefings hosted by national groups of state and local officials

Information on other investment programs such as the American Rescue Plan Act (ARPA)
In addition to our standard infrastructure reporting option, we can help you get information about the funds that are even more specific to your needs. We are offering the option to add on customized analysis on a per-state basis or consulting services:
Providing detailed information and analysis of state grant applications and RFPs

Developing a strategic plan for your team, including identification of key agency and department staff contacts

Tracking state and local responses to federal RFIs and comments

Referrals to in-state procurement lobbyists and other consultants

Identifying and monitoring city and county applications and awards

Engagement with targeted national, state and local officials' organizations

Additional custom research and deep-dive analysis
In Partnership With:

In addition to Stateside's Infrastructure Team, we are partnering with BGR Group and Calco Consulting Group to bring you more support.  
Resources