The Infrastructure Investment and Jobs Act (IIJA), American Rescue Plan Act (ARPA), and the Inflation Reduction Act (IRA) represent a once-in-a-generation investment in our nation's infrastructure. With billions of dollars in funding available, now is the time to act.
Stateside can help your business take advantage of these opportunities by providing resources and expertise to identify, apply for, partner with, and leverage funding opportunities as states and local government entities identify their infrastructure projects.
Our team of experts has extensive experience in state and local procurement, policy, and engagement. We can help you navigate through three key infrastructure funding areas - Broadband, Clean Energy, and Electric Vehicle (EV) Charging Infrastructure.
Contact us today to learn how we can help you get the funding you need for your infrastructure projects.
INFRASTRUCTURE FUNDING AND POLICY HIGHLIGHTS
The section below provides snippets of weekly updates on infrastructure and infrastructure funding policy, programs, and deployment updates related to broadband and clean transportation.
(Last updated 5/30/2023)
BROADBAND
NATIONWIDE
On May 15, the Office of Economics and Analytics, in conjunction with the Wireline Competition Bureau, announced the release of the Broadband Funding Map. The Broadband Funding Map and the map's underlying data can be found here.
On May 16 and May 17, the National Telecommunications and Information Administration (NTIA) awarded the following Internet for All grant funds:
LOUISIANA
A staff member from U.S Senator Bill Cassidy's (R-LA) office provided a broadband update on May 15 and stated that an additional $1.2 to $1.4 billion will be provided to the state, or $225 million each year over the next five years.
WASHINGTON
On May 16, the Washington State Broadband Office announced over $121 million in ARPA-Capital grants for 19 broadband construction projects. Demand for the grants exceeded available funds by 261% – 50 different projects requested more than $316 million. 
CLEAN TRANSPORTATION:
ELECTRIC VEHICLES & CHARGING INFRASTRUCTURE
GEORGIA
On May 23, Governor Brian P. Kemp (R) announced that Hanon Systems, a global provider of automotive thermal and energy management solutions, will create 160 new jobs and invest more than $40 million in a new manufacturing facility in Bulloch County.
NATIONWIDE
On May 19, the U.S. Department of Energy (DOE) announced a new $99.5 million funding opportunity in addition to the selection of 45 projects totaling $87 million to advance production of next-generation electric vehicle technologies, train the future electrified transportation workforce, and ensure the equitable deployment of clean mobility options in disadvantaged communities.
NORTH CAROLINA
Governor Roy Cooper (D) announced that Alpitronic Americas LLC, a manufacturer of high-power electric vehicle charging stations, will create 300 new jobs in Mecklenburg County. The company will invest more than $18.3 million to locate its United States headquarters operation and service center in Charlotte. 
TENNESSEE
On May 23, the Chattanooga City Council approved a resolution authorizing the City of Chattanooga to apply for, and if awarded, accept a Charging and Fueling Infrastructure Grant from the United States Department of Transportation to fund strategic deployment of electric vehicle charging and alternative fueling infrastructure, for an amount not to exceed $3 million, with the City's contribution not to exceed $600,000.00.
HOW CAN WE HELP?
Our services are tailored to your company's needs. We focus on four areas to help you navigate the complicated process of infrastructure initiatives and funding opportunities.
Consulting and Strategic Planning: We will help you locate the right programs for your organization and develop a strategy to identify projects and government partners. Some actionable items we will look for are:
Providing detailed information and analysis of state grant applications and RFPs
Identifying key agency and department staff contacts
Tracking state and local responses to federal RFIs and comments
Referrals to in-state procurement lobbyists and other consultants
Identifying and monitoring city and county applications and state awards
Engagement with targeted national, state, and local officials' organizations
Monitoring Database: Our database is the most comprehensive resource of its kind. Our first-class grants, awards, and incentives database tracks the latest in state and local-level programs, RFPs and RFQs, meeting dates, award announcements and policy announcements. Your company can customize and access our database to always stay up to date. Request a demo today.
Customized analysis: If you need customized research or deep-dive analysis on specific programs, policies, awards, states or local government entities, our team can help.
Standard reporting: With weekly email updates and monthly 50-state profile reports, you can have the information you need to track major developments. Request a sample report today! Our reporting includes the following:
Grant allocation and formula funding to each state
Status of state applications or plans and the process for receiving funds
Distribution of funds for the IIJA and other investment programs, such as ARPA, among state agency programs
Structure of new and existing state agency programs, including the process for application and distribution of funds
Eligibility criteria to apply for funds
Agency contacts and state infrastructure plans
Meetings occurring in-state concerning the process of applying for funds
Workshops and briefings hosted by national groups of state and local officials 
Team of Experts Supporting You
Stateside's Infrastructure Investment and Jobs Act Team bring together multidisciplinary policy expertise, in-depth knowledge of the policymaking process, and a network of trusted in-state contacts to help your organization navigate the grantmaking process — from the federal government to the states and through state agencies to programs. 
Image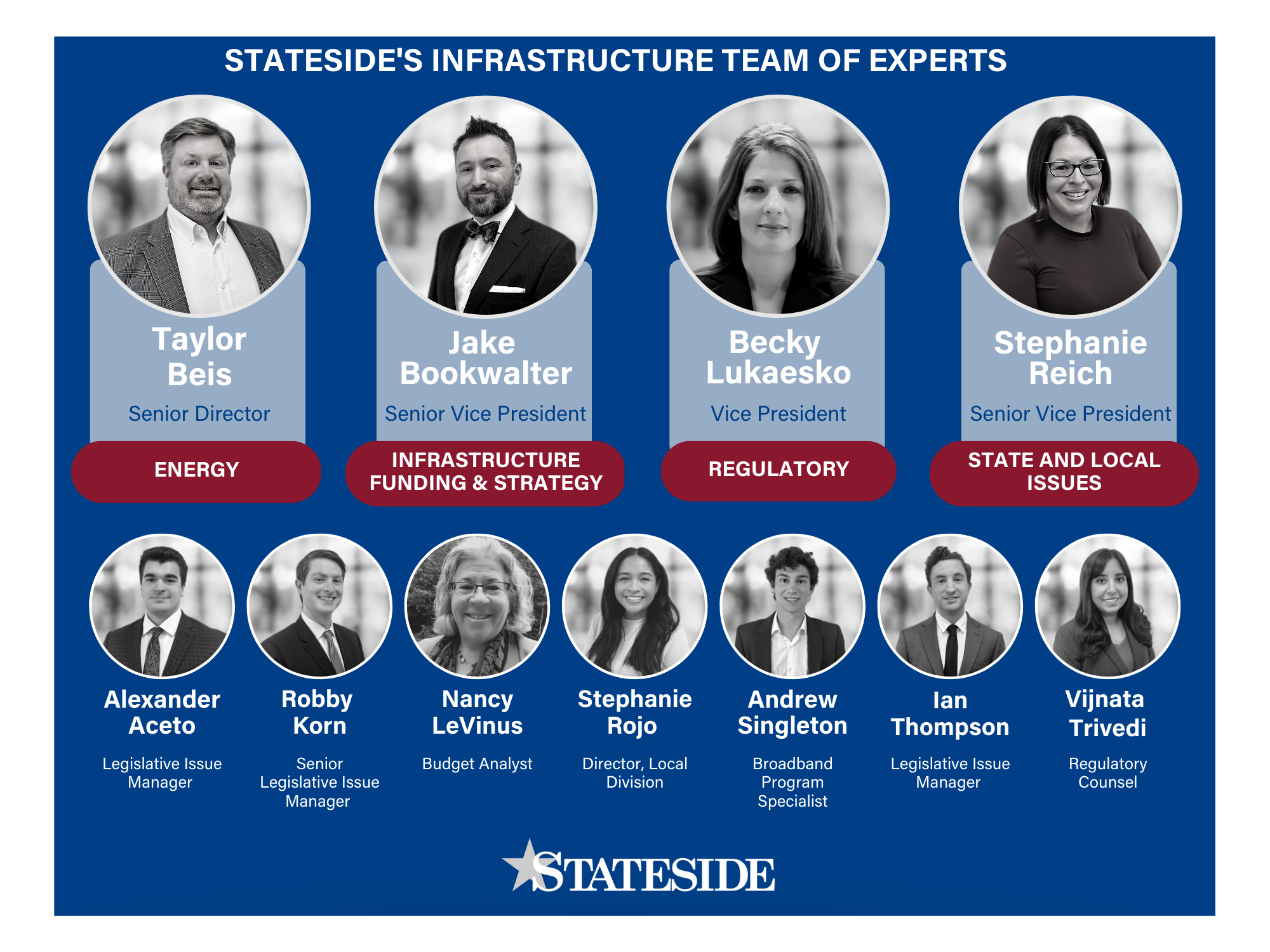 In Partnership With:

In addition to Stateside's Infrastructure Team, we are partnering with BGR Group and Calco Consulting Group to bring you more support.  
Resources
Image