Since its inception in 1988, Stateside has supported the state legislative and regulatory programs of the

nation's leading corporations, trade associations and advocacy coalitions. 
The state and local issues we have monitored has ranged widely, including agriculture, defense, energy, environment, higher education, financial services, food safety, health care, judicial and tort reform, all manner of manufacturing, online commerce, procurement, technology and transportation to name just a few.
Most of these issues are both broad and complex. 
And as a government affairs manager, you must be confident that the firm you hire to perform monitoring has an expertise in the subject matter, a genuine understanding about how these issues manifest in the public policy arena and – perhaps most important – a knowledgeable approach to monitoring that reflects an understanding about how these issues can impact your business or bottom line.
This contextual understanding of our clients, their issues and the processes is the difference between issue monitoring and the search engine or algorithm approach. 
Our monitoring offerings cover the Legislative, Regulatory and Local Government arenas. 
Each program is customized for our clients' program and issue monitoring priorities.  We dedicate teams of legislative, regulatory and local government professionals to support our clients' monitoring efforts – in addition to our veteran issue managers and principals. Their knowledge and experience always guides our monitoring.
In addition to alerting clients about significant legislative developments as they occur – providing up-to-date information about priority introductions, hearings, agency actions and votes – clients are provided with nearly unlimited access to our professional staff for additional support. 
And all of our monitoring programs are designed with the needs of the busy, traveling, government affairs professional in mind. All of our reports are easily accessible – anywhere and at any time – via emailed Alerts, as well as a user-friendly Internet monitoring platform and our Mobile-optimized app.
Simply put, our monitoring services are intended to relieve you of the time and gargantuan effort associated with monitoring thousands of legislative, regulatory and local actions across the country, so that you can focus on higher value advocacy tasks.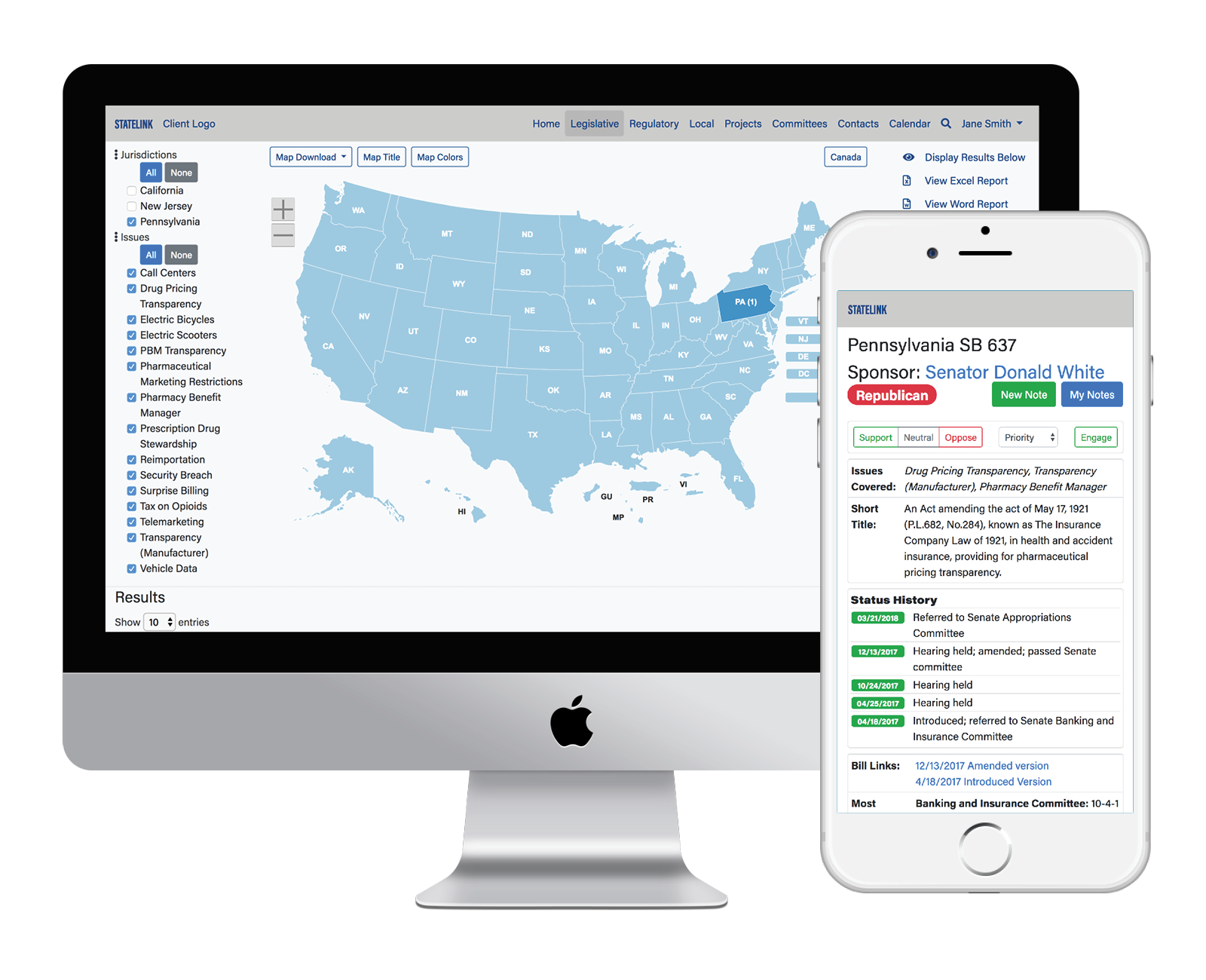 Our Monitoring Platform – StateLink
Our StateLink Monitoring Platform features a more personalized monitoring experience:
Same Expert Support, Only Better

. A new, improved Monitoring Interface with state-of-the-art functionality, customized reporting, paired with the experienced, professional support that you've come to rely on.

Let's Get Personal.

 Individualize your monitoring experience by generating your own personalized legislative and regulatory searches, monitoring reports, priorities and maps. New tools to track and manage your legislative and agency meetings. 

We're On Your Clock.  

Customize legislative alerts that arrive on your schedule: ASAP, hourly, daily or weekly. More robust calendar functionality highlighting critical state legislative dates, milestones and state and local Groups' events.

With You On The Road.

 Stay better informed on the road with our enhanced Mobile App. Enjoy access to all of your monitoring reports, priority issues, session and administrative dates, election reports and more.

See the Bigger Picture.  

Go beyond our customized reporting to view ALL introduced legislation, timely news feeds, trends and more.