By: Robert Williams, Senior Political Director | August 11, 2021
New York Governor Andrew Cuomo (D) announced his resignation on Tuesday – effective in 14 days – a week after the independent investigators appointed by state Attorney General Letitia James (D) determined that he sexually harassed multiple women in and outside of government and violated state and federal law. Cuomo's resignation caps a stunning reversal in political fortunes for the third-term governor who garnered praise for his no-nonsense approach to the COVID-19 pandemic and whose name was floated as a potential Democratic presidential nominee just over a year ago.
Cuomo's announcement marks the second time in 14 years that New York's chief executive will step down, following Governor Eliot Spitzer's resignation in March 2008. Spitzer's lieutenant governor at the time, David Paterson – a former state Senate minority leader – automatically assumed the governorship, becoming New York's first and only Black governor. When Lieutenant Governor Kathy Hochul (pronounced HOH-kuhl) is sworn in, she too will be a "first," as New York's first woman governor. Hochul is a former member of Congress from the Buffalo area and joined the Cuomo Administration in its second term, succeeding previous Lieutenant Governor Robert Duffy.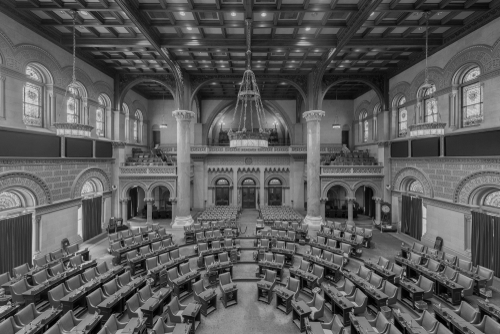 New York's line of succession was established in the state Constitution and further delineated in the Defense Emergency Act of 1951. As in most states, the lieutenant governor assumes the office of governor in case of his or her removal, resignation, or death. The lieutenant governor is followed in the line of succession by the temporary president of the Senate (usually the Senate majority leader) and the Speaker of the Assembly. With Hochul's ascendence, Senate Majority Leader Andrea Stewart-Cousins will serve in a dual role as acting lieutenant governor unless and until Hochul appoints her replacement.
The New York State Constitution does not provide for filling the office of lieutenant governor in the event of a vacancy, and none had been appointed until Paterson's precedent-setting term. Attempting to break a stalemate in the evenly split state Senate, Paterson appointed Richard Ravitch as lieutenant governor in July 2009. The controversial move prompted legal challenges and conflicting rulings that culminated at state's highest court, the New York Court of Appeals, which ultimately affirmed the constitutionality of the appointment.
In the next two weeks, Hochul will make many key decisions about standing up her administration, including deciding which Cuomo officials should stay and who she will replace. According to a New York Times report, her office currently employs only nine staff members.
Stateside will be tracking the developments in Albany closely over the coming weeks. For help evaluating the implications on your policy priorities, contact us today.