"An attempt by elites to impose ideology through business institutions, financial institutions and our economy...they have a vision." These were Florida Governor Ron Desantis' (R) words during the press conference for the signing of House Bill 3, commenting on why this legislation is so desperately needed. The enactment of this proposal was not an isolated event or limited to Florida. States nationwide are weighing in on the ESG debate and taking action. Eclipsing nearly every other topic this session, ESG has become one of the most talked about and polarizing issues. Every official seems to have some form of a position. With legislative sessions winding down, there are still several proposals on ESG awaiting consideration. However, the end of the legislative session does not mean the end of the debate. Interim studies, executive actions and Groups events will keep ESG in the news. 
But what is ESG, and where is this recent hostility to it coming from?  
ESG, or Environmental Social Governance, is a set of non-financial risk factors. It was developed to help assign acceptable risks, allowing an investor to weigh the conversations and priorities of the day—or decade—to any investment. It does not, on its own, carry any value or make any judgements. It is a tool - yet it is a tool that draws conflicting emotions from elected officials in equal measure.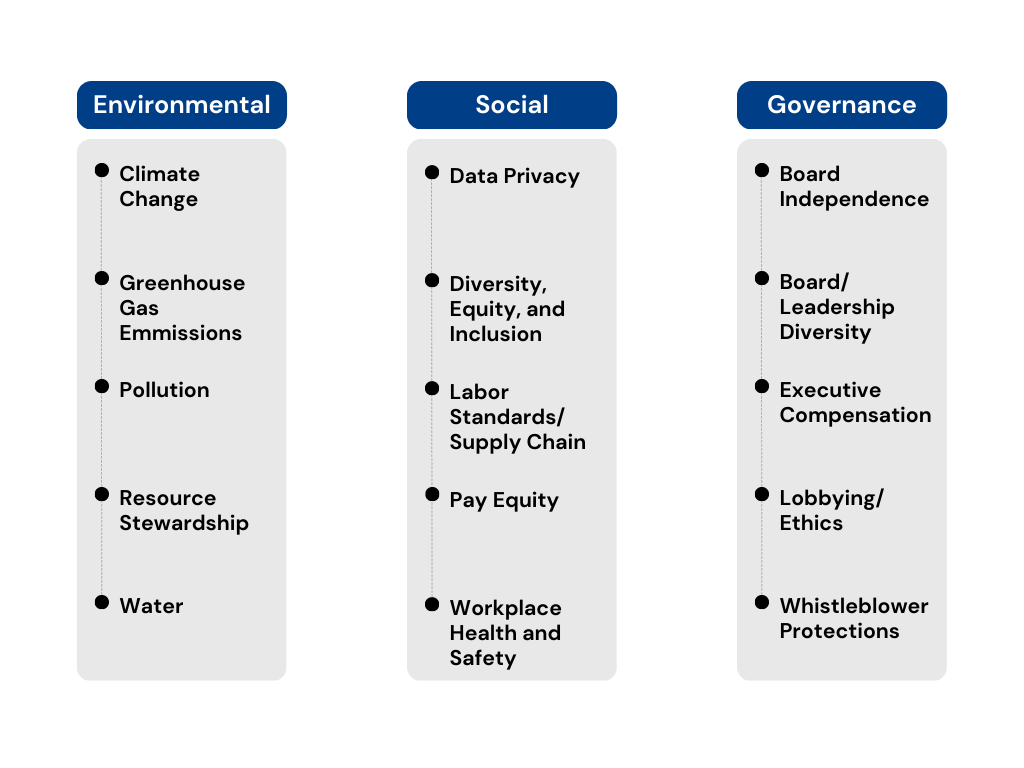 Above are some examples of concepts that can make up the issue buckets of ESG, but there is no one definition, and that is part of the problem. It can mean so much more—or less—depending on the audience. A myriad of groups have jumped in to provide their own definitions. From financial firms to news organizations to advocacy groups, to politicians themselves, everyone has a definition: firearms and banking restrictions—ESG; anti-Israel boycotts—ESG; social credit scores—ESG! This murky definition has translated into over 400 measures and actions in 2023, with 10% of the legislation coming out of Texas alone. 
The debate over ESG is not exactly new. Many of these concepts have been discussed in one form or another for years. What is new is the level of coordination amongst states to discuss these issues. Blue states have traditionally been good at banding together to advance issues. When the federal government failed to address climate change, many states stepped in and decided to take unilateral action and created RGGI or the Regional Greenhouse Gas Initiative. Red states, of course, ran their own counter policies or relaxed existing ones, but outside of Attorneys General banding together and suing the EPA, it was not entirely a unified effort.  
What makes today's ESG debate different is the level of coordination the Republicans are demonstrating at all levels of government. Montana or Utah on their own can do little to counter policies from New York or California—they are industry standard setters. But as a part of a coalition, Montana or Utah can help drive the conversation.  
January 17,

Utah

Attorney General Sean Reyes (R), along with 21 others, sent a letter challenging the ESG practices of ISS and Glass, Lewis, & Co 
March 16,

Florida

Governor Ron DeSantis (R) announced that he had formed an alliance along with 18 other states—including

Montana

and

Utah

—pledging to protect citizens from ESG influences 
March 30, a coalition of 21 State Attorneys General, led by

Montana

AG Austin Knudsen (R), sent a letter to over 50 financial institutions warning them about continuing to pursue social and environmental concerns 
Every War Needs a General 
The fight to regulate ESG was first brought up in December 2020 when Alaska Governor Mike Dunleavy (R) proposed legislation to end relationships with financial institutions that stopped financing oil and gas exploration and development in the Arctic, but Florida Governor Ron DeSantis (R) is now leading the charge. From near-daily pressers to high-profile battles with Disney and BlackRock, it is hard to read the news without seeing his name. His most recent action of signing House Bill 3 into law is generating today's headlines. 
Of course, every army needs soldiers, and there is not a shortage. About every session day, another ESG policy or proclamation surfaces. Some are hyper-focused, like Texas Representative Tom Oliverson's (R) proposal, which requests Congress to investigate Larry Fink of BlackRock for his investing based on ESG factors rather than pure fiduciary ones or Oklahoma State Treasurer Todd Russ's (R) letter and a questionnaire to financial institutions designed to determine which companies are currently boycotting energy companies. Others are more sweeping, like Kentucky Attorney General and Republican candidate for Governor Daniel Cameron's pledge "to keep politics out of public pensions on day one as Kentucky's next Governor" or Florida Representative Bob Rommel's House Bill 3, which prohibits financial institutions from discriminating against consumers for their beliefs, barring the consideration of "ESG Credit Scores;" and permanently prohibiting SBA fund managers from considering ESG factors when investing the state's money. Other types of policies proposed relate to: 
Bans on public entities considering ESG and awarding contracts 

Investments solely based on pecuniary factors 

Ideological boycotts: energy sources; firearms; Israel 

Proxy voting 
This is not a one-sided fight. Blue states (and blue actors), too, continue to legislate and issue their own press releases and formal inquiries. 
The Empire State Strikes Back 
On March 1, the New York Senate Banks Committee, the Senate Finance Committee, and the Senate Environmental Conservation Committee met to discuss the financial risks on banking posed by climate change. Several bills are under consideration on the topic, including Senate Bill 5437, which requires banks to submit climate-related financial risk reports. Senate Bill 899 and Assembly Bill 1101 would require the New York state teachers' retirement system to divest from any investments in fossil fuel companies. California has also proposed similar bills, mandating climate disclosures. Legislation surrounding state pension funds in states like New Jersey or Illinois is also under active consideration requiring funds to divest or produce climate change risk minimization policies. In Vermont, Senate Bill 251 would prohibit the Vermont Pension Investment Commission from investing in the largest fossil fuel reserve owners and calls for the divestment of the current assets in said owners by July 1, 2025. Arizona Governor Katie Hobbs (D) vetoed Senate Bill 1096, which would restrict state and local governments from contracting with firms unless they certified that they did not "discriminate against a firearm entity or firearm trade association." 
Getting Involved  
With the legislative season nearing an end—and completely over for several states, there are still plenty of opportunities to engage with legislators, regulators and other elected officials on this issue. Many states have active interims and allow for some form of public engagement; ESG will likely continue to be studied during this time, with legislation crafted for introduction in 2024. The Louisiana ESG Criteria Study Group itself was created by the passage of House Resolution 246 in 2022 to review the topic and make recommendations to the legislature. Wyoming has announced that the Joint Appropriations Committee will spend the interim studying ESG and its impact.  
Legislatures are not the only venues hosting the debate on ESG. Many of the Groups are offering their own sessions and panels. ALEC perhaps kick-started that trend with their model policy, State Government Employees Retirement Protection Act, as well as several sessions on ESG and pension funds, but groups, including NAAG and NCOIL, have held their own policy sessions. Shortly after the November elections, NAAG sponsored a panel discussion with DC Attorney General Karl Racine (D) and Tennessee Attorney General Jonathan Skrmetti (R). In March of this year, NCOIL hosted its own panel chaired by New York Assemblywoman Pamela Hunter (D) and included David Shin, an Assistant Professor from Indiana University; Utah State Treasurer Marlo M. Oaks (R); Travis Antonino from CalPERS; Jason Isaac, Director of Life at Powered; Phillip Ludvigsen from First Environment, Inc.; and Todd Kaminsky, a shareholder in Greenberg Traurig. Engagement with the Groups is vital as many of these entities are viewed as trusted sources by the attendees. Discussions that take place at an ALEC or NCSL meeting follow a lawmaker or regulator home, possibly resulting in action or policy.    
James Bookwalter serves as Senior Vice President of State and International Issues at Stateside Associates. Stateside is the leader in state and local government affairs. With its client-first approach, Stateside offers a full-service suite of state and local government relations services, including strategic planning, direct advocacy, innovative issue monitoring, lobbying referral, public sector sales support, and engaging with public officials, state and local officials Groups and grass tops strategies. 
If you want to learn more about Stateside's ESG reports, or Groups engagements, contact James Bookwalter at jsb@stateside.com.