By: Meghan Holihan, Senior Director of Corporate Affairs | September 14, 2021
How We Got Here
February 2020
With the coronavirus quickly gaining headlines and airtime, the paperwork filed to remove Governor Gavin Newsom flew under the national news's radar. Afterall, it marked the fifth attempt by frustrated conservatives who disagree with nearly everything Newsom stands for to remove the governor from office: The leader of the recall, retired Republican sheriff sergeant Orrin Heatlie, was originally motivated to recall Newsom for his opposing views on immigration and capital punishment policies. But as the pandemic and resulting shut-downs exploded, the recall messaging shifted dramatically, and was helped along by many of the governor's misteps.
October 2020
After instituting a school re-opening system based on county-level benchmarks, the governor opted to send his own children back to their private school, which alternated between in-person and remote days, before most public schools were allowed to resume in-person classes. Newsom suffered backlash and growing resentment from parents fearing their own public-school educated children were falling behind.
November 2020
After enforcing mitigation measures that shuttered businesses and placed Californians under economic stress, the governor and his wife gathered and dined – unmasked with people from more than three households – at one of the most expensive restaurants in the country. The optics were undeniably bad, and Newsom publicly apologized for behavior that he had been begging every-day Californians to avoid.
On the same day of the now-infamous French Laundry dinner, supporters of the recall asked a Superior Court judge to extend the signature deadline citing pandemic restrictions that were hampering the collection effort. The judge did grant an additional 120 days to the group and the French Laundry mishap did spur a massive increase in petition signers. With the extension and blunder, the stars aligned handing recall supporters more time to capitalize on their new message: Join us in removing a hypocritical, out-of-touch politician from office. It was a tipping point in the recall effort.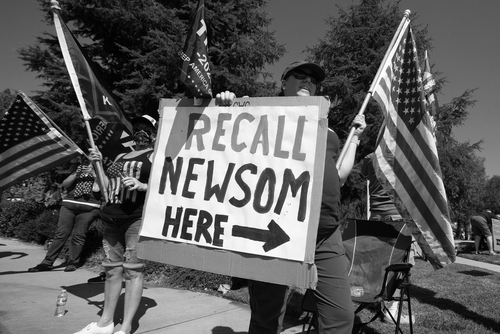 Summer 2021
Many Democrats were sounding alarm bells in the Golden State fearing that reliably blue voters were simply not going to vote in the recall election. Californians were living through yet another severe wildfire season and the state's never-ending affordable housing crisis. There was also excitement surrounding Newsom's biggest rival, Larry Elder, upon his entrance into the race. However, Newsom's calvary arrived and by late August the governor had raised more than $58 million and had prominent members of the Democratic Party on stand-by for voter outreach. The anti-recall campaign started to focus on the governor's proactive pandemic response: While Newsom's executive orders were infuriating for recall proponents, they have the support of his Democratic base.
September 14, 2021
It's recall election day – although Californians have been mailing back their ballots for weeks now – and many of the polls are projecting failure for recall proponents. Registered Democrats have returned their ballots at a much higher rate than Republicans and independents. While the data gurus at FiveThirtyEight have acknowledged that this race was particularly difficult to accurately poll due to its timing and process, the most recent data shows a substantial percentage of those polled wish to keep Governor Newsom in office.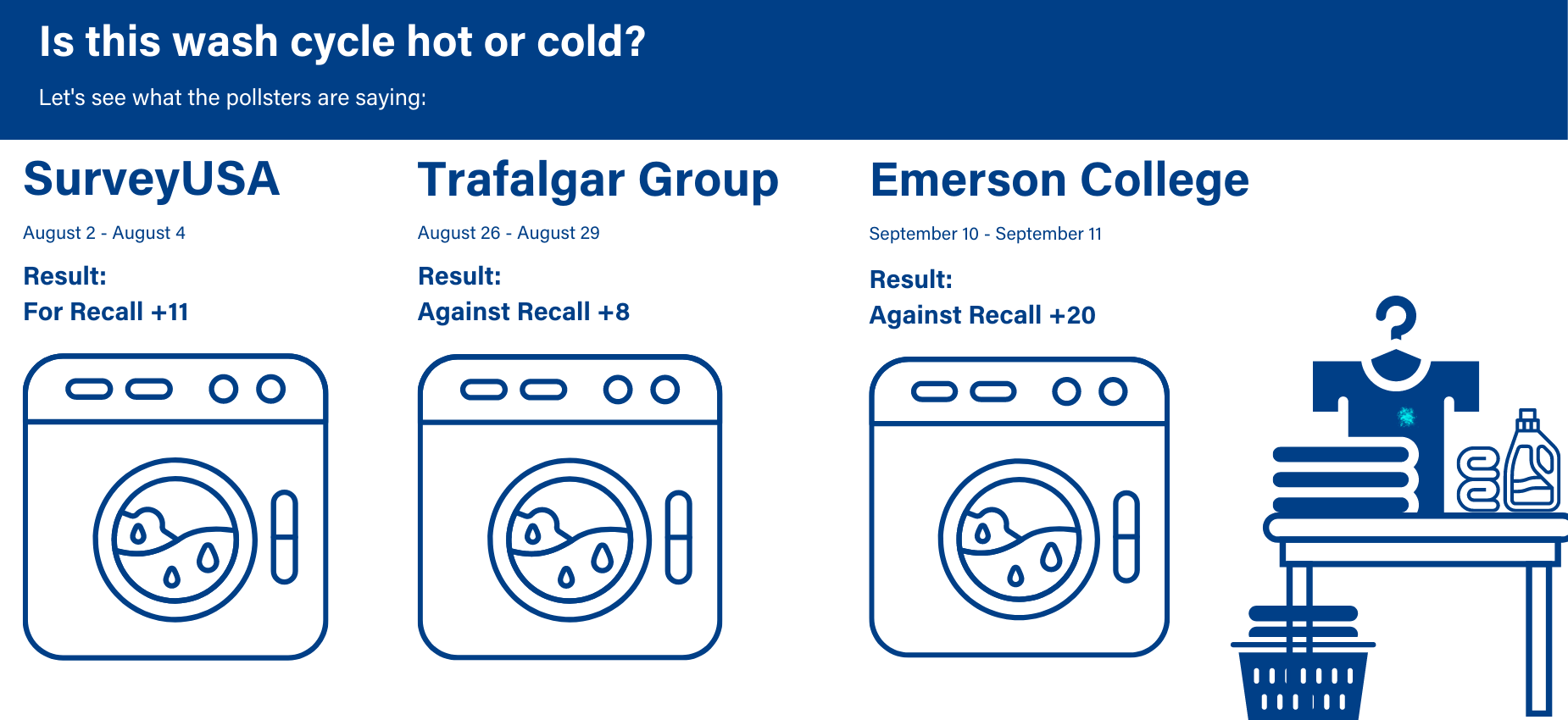 It certainly seems like the governor has managed to get the stains out, but the buzzer hasn't rung yet. And that's the funny thing with stains—sometimes they come off, other times, the wash cycle somehow makes them worse.
HAVE QUESTIONS ABOUT THE CALIFORNIA RECALL OR ANY OTHER RACE THIS CYCLE? CONTACT MEGHAN HOLIHAN.