By: Meghan Holihan, Director of State and Local Issues | September 9, 2021
There is one weekend left in the campaign to recall California Governor Gavin Newsom. We've already talked about how the process works, now we're taking a closer look at the man who has emerged from the pack.
The Front-Runner
In a field of 46 people, it can be tough to stand out from the crowd… unless you're Larry Elder. The Brown University graduate, author of The Ten Things You Can't Say in America, and conservative talk show host is not just an agent provocateur on the radio: Since Elder entered the race to replace Governor Newsom, he has clearly agitated the other Republican challengers and impressively courted large swaths of voters while shaking up the race. A poll conducted July 19-20 had Elder 10 points ahead of his nearest opponent. He formally announced his campaign a mere seven days earlier.
Elder describes himself as a "small-l libertarian" with "commonsensical" values. He has made housing a top priority pledging to declare a homelessness emergency, suspend the California Environmental Quality Act (CEQA), and physically remove those suffering from mental illness from the streets. Elder is a fierce proponent for school choice and vouchers. And, while he supports eliminating the minimum wage, he has publicly stated that he would not attempt to dismantle the state's current gradual rate increase. 
His critics cite a lack of government and political experience, though Elder believes this perceived weakness is one of his greatest strengths. Fairly or not, he consistently paints Governor Newsom as a career politician who has ended up in the state's second ever gubernatorial recall due to pure ineptitude while casting himself as an outsider willing to put in the work to create change in California. Some of that messaging is undoubtedly resonating with voters.
But it will all be for naught if a majority of voters choose to keep Governor Newsom in office.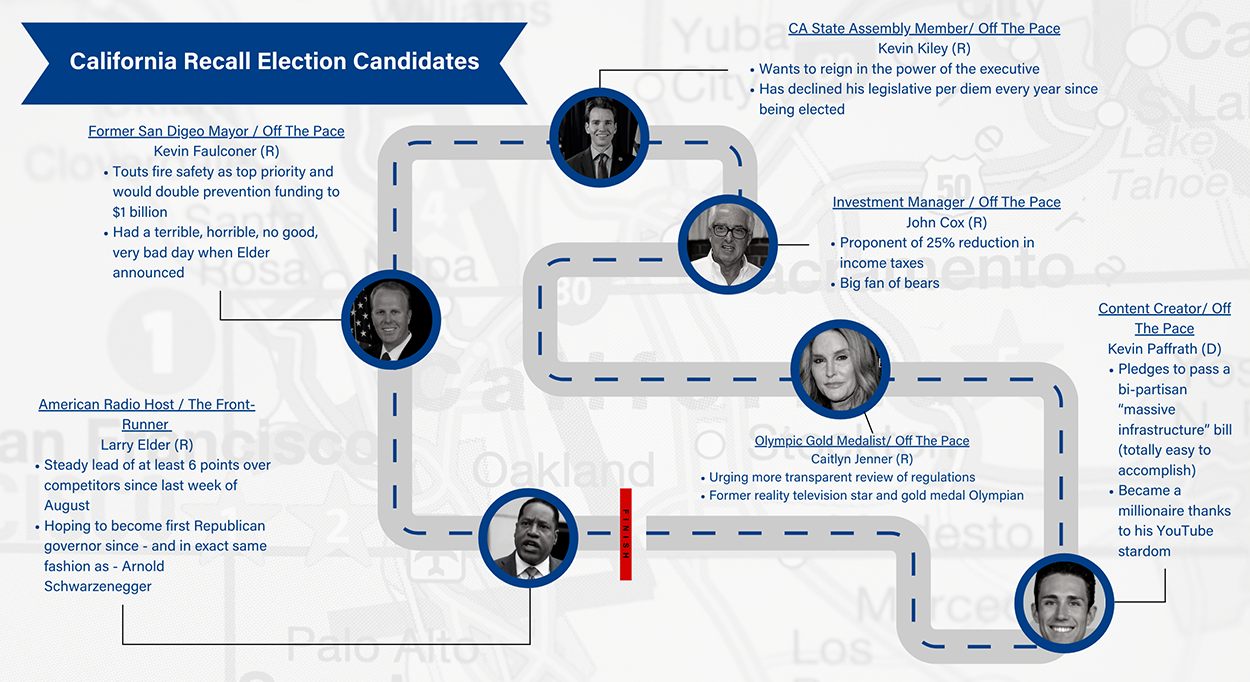 The Numbers
Nearly 30% of ballots that were mailed out in August have been returned to the Secretary of State. According to state officials and a left-leaning political data firm, the increasingly liberal counties of the Bay Area have the highest rate of return thus far. Reports coming out of the state also show that twice as many registered Democrats have already voted than registered Republicans. As with most things in a campaign, these numbers should be taken with a grain of salt; it is widely accepted that Democrats typically vote early while Republicans tend to go in-person to the polls.
Next week in our final blog, we'll look at last minute polling and pundit ratings of the recall.
Have questions about the California recall or any other race this cycle? Contact Meghan Holihan.