By: Robert Williams, Senior Political Director & Robby Korn, Legislative Issue Manager | January 12, 2022
A good internet connection is no longer a luxury – it's "essential to full participation in modern life in the United States," according to the Infrastructure Investment and Jobs Act, signed by President Biden in November. Yet the digital divide persists: 17 percent of Americans in rural areas and 21 percent of those in Tribal lands don't have access to reliable, high-speed internet, compared to only one percent of Americans in urban areas. Buoyed by new federal investments, states took bold legislative action to connect more Americans in 2021, and many will return to address broadband expansion in 2022.
State Action
The rise of COVID-19 unexpectedly accelerated our national dependence on the internet, and policymakers are rushing to catch up. During the 2021 legislative session, nearly every state in the country acted to expand broadband access:
17 states established a grant program to accelerate broadband deployment in unserved or underserved areas, and three states made changes to their existing programs.
12 states established an office, agency, or task force for broadband, usually tasked with administering the state's broadband grant program, and three others modified existing offices.
Nine states passed new requirements for broadband maps and data, which will be used to evaluate applications for broadband grants.
In California, where about 16 percent of the rural population lacks high-speed internet access, Governor Gavin Newsom (D) signed an ambitious broadband expansion bill in July. The bill established the Office of Broadband and Digital Literacy and appropriated $6 billion in funding for broadband infrastructure, including the construction of a statewide "middle-mile" network, funding for "last-mile" broadband connections, and a loan loss reserve fund to help local governments and nonprofits secure financing for infrastructure projects.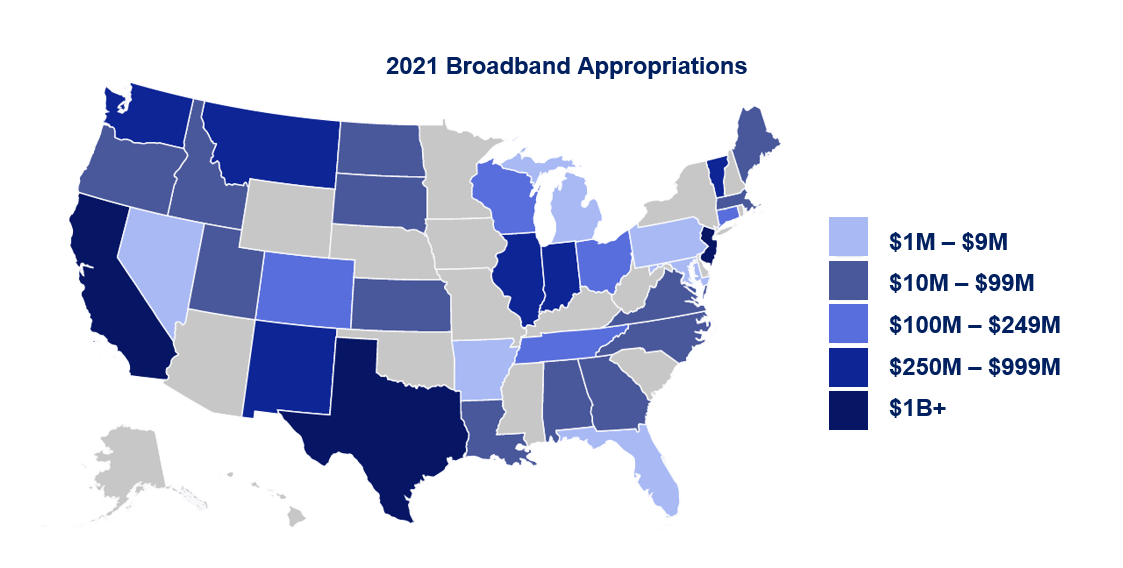 The Florida Legislature also passed a major rural broadband bill aimed at closing the digital divide for the 21 percent of rural Floridians without access to reliable internet service. Signed into law last May by Governor Ron DeSantis (R), the Broadband Deployment Act of 2021 established the Broadband Opportunity Program, which will provide grants to expand internet service to unserved areas, and modified the duties of the Office of Broadband to include identifying potential sources of federal funding for local projects. The legislation incentivizes broadband deployment with a provision, modeled after the Georgia Public Service Commission's "One Buck Deal," that grants service providers a discounted fee of $1 per wireline attachment per pole for any new attachment required to make broadband service available to any unserved area.
Legislators in several states have already pre-filed or filed broadband bills for the 2022 legislative session. In Washington, a digital equity and inclusion bill, HB 1723, would offer reduced broadband rates and fund training and digital literacy opportunities for underserved communities. In New Hampshire, SB 247 would broaden municipalities' authority to issue debt to finance broadband infrastructure projects. In other states, legislatures will return to consider whether or how to allocate funds from President Biden's coronavirus relief bill, the American Rescue Plan Act, for broadband projects.
Federal Funding
ARPA was designed to grant states significant flexibility in allocating funds to respond to the pandemic, and many chose to invest in increased connectivity. So far, about half of the states have appropriated ARPA funds to establish or expand broadband programs.
The new $1.2 trillion Infrastructure Investment and Jobs Act will pump $65 billion into expanding high-speed internet access and adoption, but states will need to apply for competitive grants to receive much of it. The bulk of the funding ($42 billion) is dedicated to broadband deployment and adoption in unserved and underserved communities and will stream from the Broadband Equity, Access and Deployment Program, managed by the National Telecommunications and Information Administration (NTIA), located within the Department of Commerce. The bill devotes $14.2 billion to extending and expanding consumer subsidies through the Affordable Connectivity Program (ACP) and $2.75 billion to state and local digital inclusion efforts like computer training and funding devices at public anchor institutions.
NTIA expects to begin accepting states' proposals this year, after the FCC has finished updating their broadband maps. Legislatures, governors, and other public sector leaders are already exploring creative strategies to capitalize on this historic federal investment and deliver for their hard-to-reach communities.
Don't get left behind: Contact Stateside today to stay on top of state and local broadband action.
Meet the Authors:
Robert Williams, Senior Political Director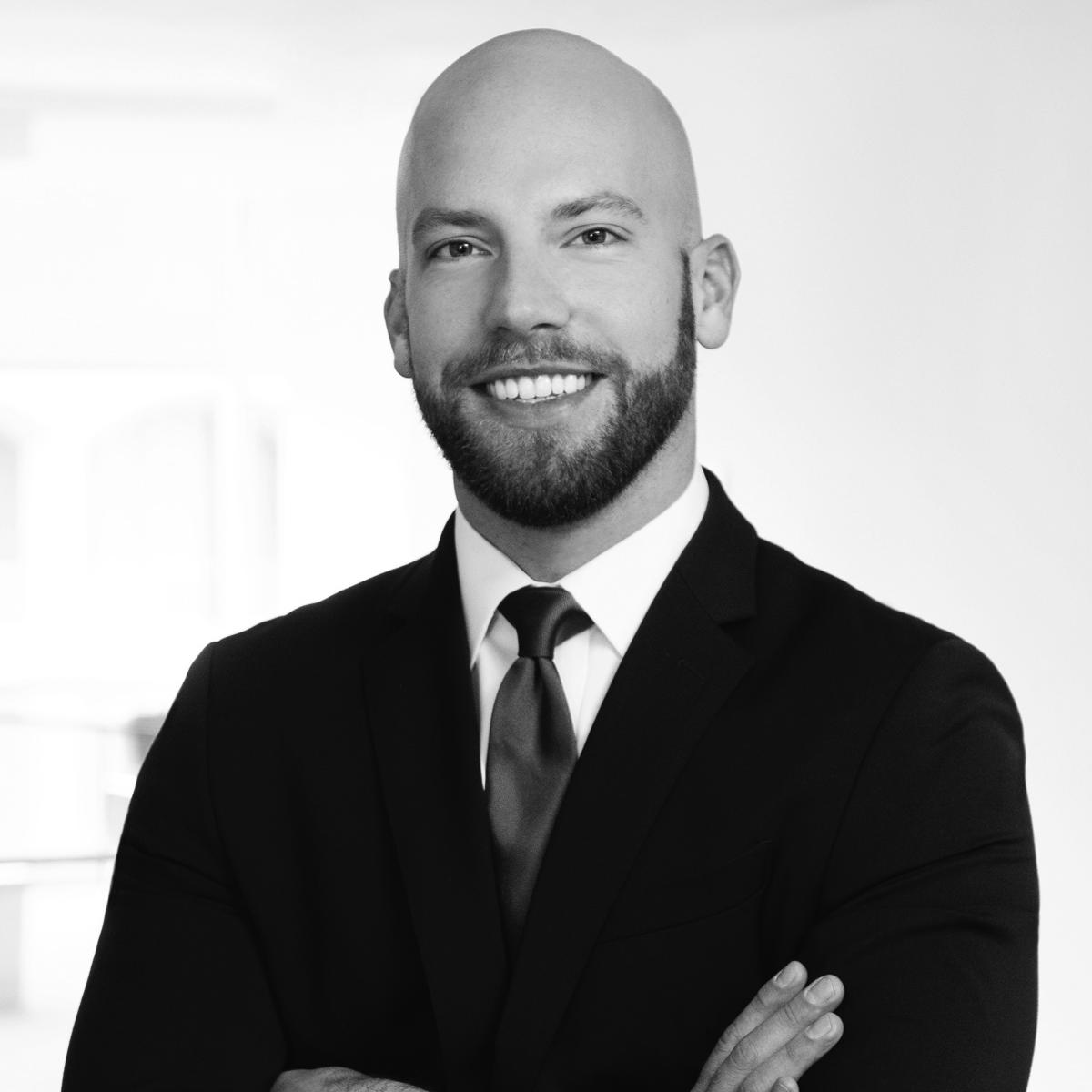 As Senior Political Director, Robert draws on his deep relationships, on-the-ground advocacy experience, and background with legislative groups to advocate for Stateside's clients. Read full bio here. 
Robert was previously a Senior Strategist in the Public Policy practice at Orrick, where he executed multistate legislative campaigns on behalf of Fortune 500 companies and technology start-ups in industries ranging from carsharing to gaming to telecommunications. Before joining Orrick, Robert was the Director of Corporate Relations for the Democratic Legislative Campaign Committee (DLCC). Over two cycles with the DLCC, Robert broke fundraising records and helped the DLCC flip eleven legislative chambers to Democratic control. Prior to the DLCC, he held multiple corporate development positions with the bipartisan National Conference of State Legislatures (NCSL) in Denver. Complete bio here. 
Robert "Robby" Korn, Legislative Issue Manager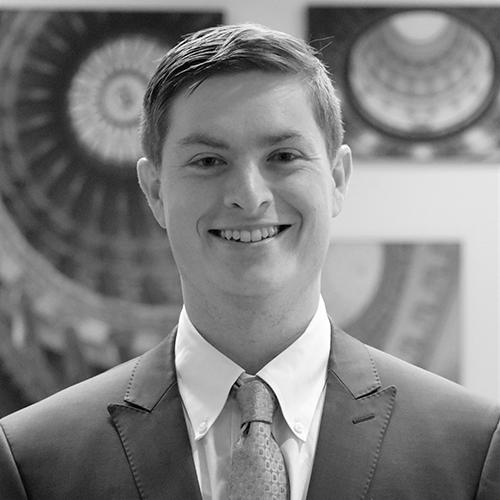 Robert is a Legislative Issue Manager on the Industry and Procurement Team.  Prior to joining Stateside, he spent two years working in the House of Representatives in Washington D.C.  He graduated from Florida State University with a Bachelor of Science in Political Science in 2016.  Born and raised in South Florida, Robert is an avid fan of his hometown Florida Panthers and spends his free time keeping up with the news and listening to electronic music. Complete bio here.