By: Meghan Holihan, Director of State and Local Issues | August 30, 2021
Those of you in the state government affairs business know that plenty has already been written on the upcoming recall election in California and have at least one eye on September 14. This is Stateside's take on demystifying the process for our readers. While the procedure of expelling a head of state via referendum is tedious and lengthy, some of the thresholds both proponents and candidates must hit along the way are arguably less burdensome than one would expect.   
Californians have had the opportunity to recall their elected officials for 110 years now: During this time, there have been 179 attempts to remove politicians from office. Of those, only 11 recall campaigns have qualified for the ballot. Just two efforts have ever received enough signatures to trigger a recall election of the governor, including the impending September 14 recall election of Governor Gavin Newsom.  
How the Recall Election Process Works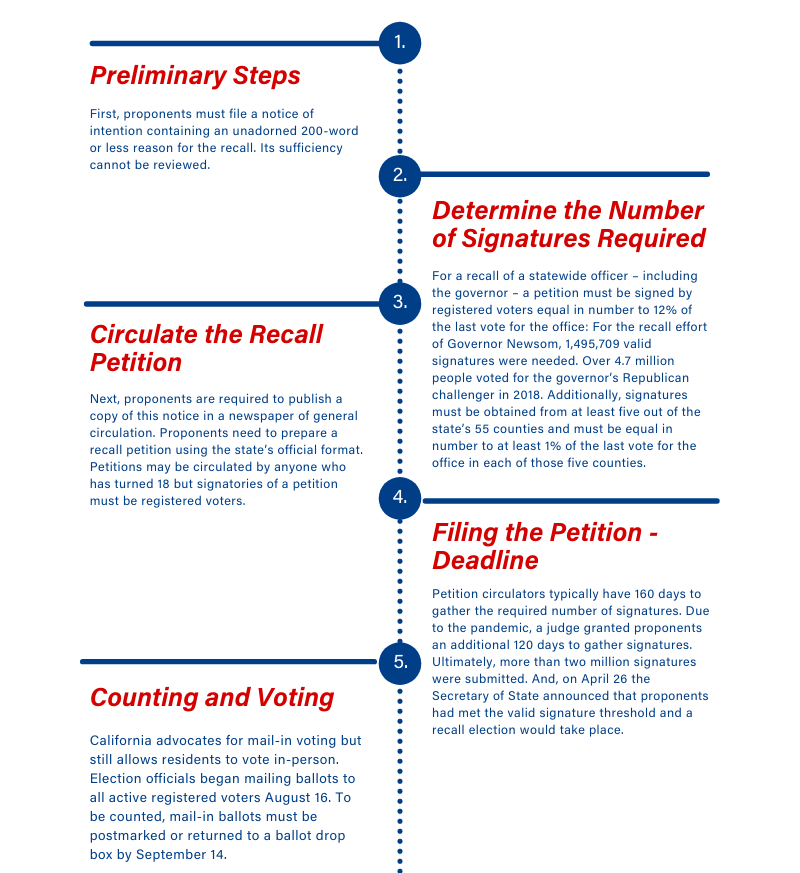 While voters will be presented with two questions on the recall ballot, they do not have to answer both. The first asks, "Shall Gavin Newsom be recalled (removed) from the office of Governor?" If the voter supports removal, they select "Yes" on their ballot. If they do not support removal, they select "No" on their ballot. If voters want to select a potential replacement for Governor Newsom, they may select one of the 46 candidates in the second question.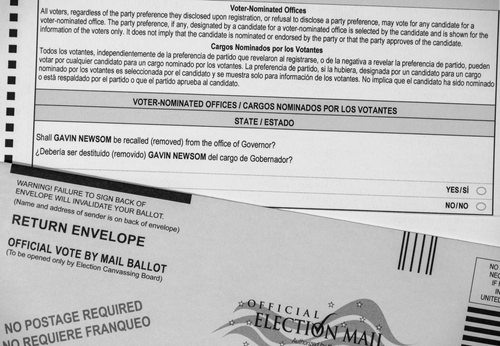 If an actual majority (50% plus 1) of ballots chooses "Yes" to the first question, Governor Newsom – once considered a darling of the left, charismatic rising star, and potential future head of the Democratic Party – will be removed from power. Whoever receives a plurality of votes on the ballot's second question will be sworn in as head of state on the 38th day after the recall election. Thanks to the extensive list of candidates that qualified for the ballot, the next governor could hypothetically receive a number as low as 20% of the vote and still serve the remainder of Governor Newsom's current term, set to end January 2, 2023. Governor Newsom won 61.9% of the vote in the 2018 gubernatorial election. He would have to be removed with at least 50.1% of the vote, but a successor only needs to scrape off a fraction of that number of votes to lead the world's fifth largest economy.
In any case, the state will still hold its regularly scheduled gubernatorial election in 2022.
At this point in the recall, polls are indicating a much tighter than expected fight for the governor to keep his job. In our next blogs, we'll explore how we got here, who some of the 46 candidates vying for the Governor's Mansion are, and how pundits and polls are rating the race.
Want more information on the recall or other races this cycle? Contact Meghan Holihan.