State and Local Governments have begun to craft plans to reopen their economies as the risks of the COVID-19 Pandemic begin to recede. Understanding the reopening processes will be challenging.
State and Local Legislative Actions Related to COVID-19
Since the global outbreak of coronavirus, over 190 bills have been introduced in 43 state legislatures, Puerto Rico, and the District of Columbia on paid sick leave and worker protections as well as appropriations requests.  Over 350 executive actions have been issued in 50 states, Puerto Rico, the District of Columbia, Guam, and the Virgin Islands related to declarations of states of emergency, school closures, prohibition of mass gatherings, retail and business closures and restrictions, and stay at home orders.  Over 1,350 executive actions have been issued in total.  Over 20 state task forces have been established by 12 governors.  And, over 30 states and the District of Columbia have issued emergency COVID-19 regulations on a number of issues including but not limited to health insurance carriers, labor and wage, and medical licensure.  Sixty-nine (69) legislative chambers have either temporarily adjourned, moved to virtual meetings, or announced an early recess or sine die. At Stateside Associates, we recognize that keeping track of this information in real-time can be nearly impossible, so we created a detailed COVID response by state report to help. Additionally, we have included actions coming from the local administrations of the 100 most-populated cities and counties in response to the COVID-19 outbreak.
You are welcome to link this report to your website.
Legislative Actions in Response to COVID-19 by State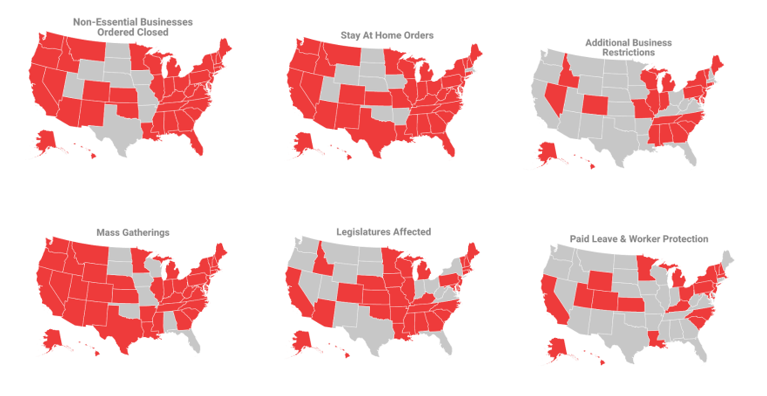 Updated July 2, 2020 at 4:35PM
Origins and Impact of COVID-19: The Coronavirus Outbreak
No event in recent history has impacted our world and way of life as much as the coronavirus (COVID-19) outbreak – affecting countries globally. Originating in China in the city of Wuhan, the SARS CoV 2, or the Coronavirus disease, quickly spread beyond Chinese borders and has now grown into a global health pandemic.
In January, the Trump administration declared a public health emergency and numerous state governments and federal agencies have been involved in the U.S. legislative response to the coronavirus outbreak. To keep track of the latest federal actions on COVID-19, visit the official government response to COVID-19 page at https://www.usa.gov/coronavirus.
State and Local Government Response to COVID-19
State and local government officials have established a myriad of policies to counter the coronavirus outbreak. With the public health at risk, many state and local governments have taken decisive action to control the spread of COVID-19. These policies vary greatly by state. We have created a comprehensive state by state report highlighting state and local government actions in response to the ever-changing Coronavirus Pandemic.
The State and Local Government Responses to COVID-19 Report includes State Legislation, Executive Orders and local actions conveniently broken down by state. It details legislative actions related to paid leave proposals, mandated business closures, appropriations for state responses to the coronavirus outbreak and Executive actions such as the creation of task forces and declarations of emergency. Selected state agency, regulatory and rulemaking actions are also being included as they are announced or emerge. We are also identifying those legislatures that are suspending activities as a result of this public health crisis. Updates to our COVID response by state report are continuously being made as new actions emerge.